First Aid Supplies, Kits and Boxes – Survival Emergency Solutions
Your purchase today will help feed the homeless, poor and needy tomorrow.
First Aid Kits. First Aid Supplies. Survival Kits. Emergency Kits.
If you're looking for a first aid kit for home, your car, truck, caravan, for fishing, camping, touring, or even at work we have a kit for you. We have a wide range of options and each first aid kit is of premium quality, clearly labelled and easy to use.
Every first aid kit and box sold directly benefits BeefBank to feed the needy and the poor. Our first aid kit sale always promises the best prices at all times. Click on the images below to go to our store at Extra Hand Fundraising.
Win another first aid kit
Thanks to the generosity of our suppliers for every sale you go in the draw to win a first aid kit with a RRP of over $200.
Our Supplier
Survival Emergency Solutions is the world's leading provider of first aid and emergency kits for the workplace, home, vehicle and outdoor activities. They have created innovative first aid kits and solutions for your workplace, vehicle and home in Australia.
All kits are nationally compliant with Safe Work Australia's Workplace Health and Safety Code of Practice. With the right kit you can make any workplace in Australia compliant with Safe Work Australia regulations.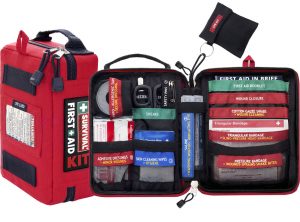 Interested In Donating?
There are so many great ways to get involved. Donate animals or simply provide a financial donation. Every dollar makes a difference.
Total meals produced to date:
470,989
Total meals produced in 2019:
117,000
A group of Sunshine Coast chefs have teamed up with charity BeefBank, to produce meals for people on the Sunshine Coast impacted by Covid-19. Led by Beef Australia and Noosa Boathouse Executive Chef Shane Bailey, the initiative will see chefs volunteering their time...
Turn The Tables On Hunger BeefBank is proudly run by volunteers so 100% of your donation goes to the purchase and preparation of meat for those in need. There's no hidden fees or salaries to pay, simply the purchase of meat for the table.